Discussion Starter
·
#1
·
Since we already have other topics on what you want adn woudl like to have, sound off if you have had a any buys that you regret adn why.
I'll start:
KJW USP Tactical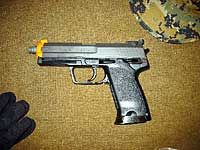 I had to get a KJW at least once for the price. $80 for a GBB was hard to resist. There really wasn nothiNG "wrong" with thE gun except for overall quality. It performed OK rather low on the FPS and the trigger pull felt like I was grinding metal each time. Luckily I was able to Ebay it.
Hudson Jerhico -941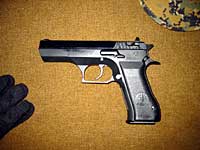 In my defense I'm a fan of Cowboy Bebop and they use this gun. BUT I've just had bad luck with any airsoft made by Hudson. The gun as a non functioning model is great. In this particular case the first magazine started leaking when filled with the weaker HFC134a Gas. Then I bought a replacement magazine and that leaked as well... ($40.00 down the drain on tope of the orig gun price of about $160.00) The hopup does not function and the and when you fire the gun bb's travel about 10 feet out then straight down. Beware of Hudson.
Maruzen APS2 SV
Regretable buy due to my upgrading, Stock weapon is great

My biggest gripe with the SV is it has a fixed hopup. I also upgraded it with a CA gas cylinder which broke about 2 week after install, and then I upgraded back to a 300% spring cylinder set. The prob with the fixed hopup is the only way to adjust it is by using heavier bb's. With .20's a I shot 600+fps, but because of the fixed hopup the bbs woudl travel outm then straight up. I ended up having to use .43 bb's whcih helped a bit. The other prob was after teh 300% spring was added, it was dificult to cock the gun w/o pulling your scope off tarrget. It became a backyard plinker at best. Luckily it found a new home. There is nothing wrong with the stock rifle,in this case you jsut need to be careful of how/why you would upgrade it. Newer APS2 series rifle have adjsutable hopup, so you won;t have these probs.
Tokyo Marui SPAS 12 with metal folding stock
Regretable buy due to my upgrading, Stock weapon is great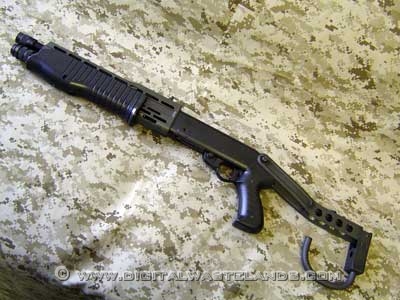 Well I bought this broken, that was prob 1, but the price was great. I lucked out and found all the replacement parts to fix at a Hong kong airsoft store. And I had the "bright idea" of installing the most powerful spring I could for a TM Spas12. It was a PDI 180% i ended up installing and it definetly is the hardest shooting TM Shotgun i've ever seen... It's now also the hardest TM Shotgun to pump. So much so it is no fun to shoot.