Went shooting today with a few friends and people from work. just playing around, for the most part no aiming was recorded because well... thats boring...
Most of the time we just loaded the mags to 20 rounds and not 30-40 like normal and kept away from huge mag dumps in bursts because of the price of ammo.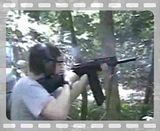 I had to cut the hell out of it to make it fit in photobucket so its awfull editing not the best cam work... sounds off sync and it does not look to good.
Still fun to watch.
Yeah, thats me in the FN shirt and ACU pants.