Brucie! - Let's make a Tactical Gear Section!!!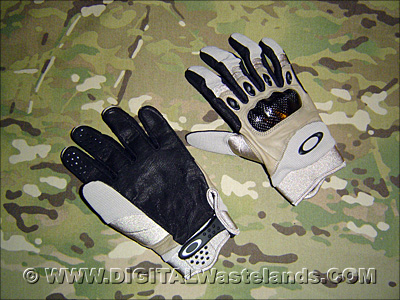 Well since we had a little interest in Tactical Oakley stuff... I think it's maybe only a Kali "Gucci" thing cuz the local geardos and real operators love Oakley around here.
Above are the Oakley S.I. Assault Gloves. Available in Tan or Black and sporting Carbon Fiber rigid knuckles. Like the Oakley Boots and Eye Protection, Oakley uses some untraditional, highly durable and breathable materials when making their stuff. Making their gear a great balance of comfort and high durability. Unlike Hatch or Blackhawk tactical gloves, these are extremely comfortable and don't turn your hands the color of the gloves over time and don't need you to cut the trigger finger tip off, unless you so desire.
The rigid carbon fiber knuckles are nice and will easily punch through an interior hollow core door
Galls and Wileyx have recently made copies of these gloves but their comfort and use on non carbon fiber in the knuckles make then uncomfortable.
Deals for these are found at our pals Tactical Tailor for $50.00 (They used to retail for well over $100 if you could find them)
http://www.tacticaltailor.com/index.asp?PageAction=VIEWPROD&ProdID=284