As reported by ABCNews:
Lawsuit: Katrina Pets Executed
Investigations, Two Criminal Indictments and a Lawsuit Put the Heat on St. Bernard Parish's Sheriff's Office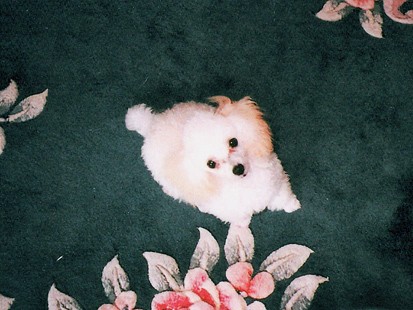 This white poodle, Gigi, was among the dogs allegedly killed by authorities after their owners were forcibly evacuated during Hurricane Katrina. A lawsuit says an animal rescue worker found Gigi shot in the head.
By JIM AVILA, ELIZABETH TRIBOLET and CHRIS FRANCESCANI
ABC News Law & Justice Unit
June 11, 2007
For nearly two years, pet owners from the low-lying Louisiana parish of St. Bernard have accused sheriff's deputies of having wantonly killed dozens of dogs they forced evacuees to leave behind during Hurricane Katrina in 2005, without regard to the dogs' size or the potential threat they might pose.
One owner said her family was forced at gunpoint to leave its dog behind. Another owner said residents became frantic when, they said, they overheard one deputy claim that "once everybody's gone, we're going to have target practice tonight." They claim in court papers that deputies were under orders to shoot every dog they found.
Two deputies have already been indicted by a grand jury in New Orleans on charges of felony, aggravated cruelty to animals. The Louisiana attorney general's office is investigating and this morning lawyers for a group of owners will file a comprehensive complaint in federal court in Louisiana seeking class action status for their clients.
For the first time, the St. Bernard Parish sheriff's office has acknowledged to ABC News' Law & Justice Unit that an internal investigation has been launched.
In an interview last week, Sal Gutierrez, who represents the sheriff's office, defended the department's handling of a clearly difficult evacuation. Gutierrez said the shells left behind in the schools did not necessarily come from the weapons issued to department deputies. He denied allegations that orders to kill the dogs came from superior officers, calling that claim "false." He said that if the investigation turned up any wrongdoing by deputies, the St. Bernard sheriff would take appropriate disciplinary action. If something false has been alleged in the lawsuit, he said he would consider countercharges of defamation of character. He said that he and the sheriff were animal lovers.
In December, the sheriff's office released a statement declaring that any actions taken had been done with "the utmost care, caution and belief of its necessity," according to the newspaper New Orleans City Business.
But Gutierrez told ABC News that until the internal investigation was complete, he could not adequately answer all the charges. "I can't tell you we don't have a renegade or two," Gutierrez told ABC News.
"If you're talking about a rabid dog roaming the streets trying to attack, that's understandable to try and find and euthanize a dog," said plaintiff attorney Randall Smith. But, he said later, "some of them were poodles, miniature dogs, tied up, most outrageous[ly] in schools, no way a threat to anybody."
One of the key pieces of evidence in the civil case is expected to be video footage shot by Pulitzer Prize-winning photographer David Leeson Jr., who said he witnessed dogs being shot while filming in the area after Katrina for the Dallas Morning News...
The story can be found at;
http://abcnews.go.com/TheLaw/story?id=3265151&page=1
- Janq
Lesson Learned: During a major and extended civil emergency one as an individual cannot depend on law or lawfulness, not even at times from law enforcement. This is not a bash toward law enforcement as a profession.
Citizens need to keep on hand enough food, water, and meds for yourself as well as any animals/pets you might have. As well have some means to safely house and/or transport them in place as well...or otherwise you take your chances. :\