Discussion Starter
·
#1
·
Gunner, The Military DVD Magazine
Just easier to post the previews now:
Added preview videos:
Gunner01 DVD
Gunner02 DVD
Gunner03 DVD
Gunner04 DVD
Here's a neat, airsoft magazine produced DVD, of real steel and real gun manufacturers. I figured there would be some interest on this site since we have fans of both.
The Gunner DVD Magazine series is being produced by ARMs Magazine (Very popular Japanese airsoft magazine) and HobbyJapan. This is pretty much the only airsoft tie-in other then the WA and Marui ads in the small MOOK included. Even though an airsoft magazine is producing the DVD, this is a 100% Real Steel pr0n DVD!
Vol 1- Language: Japanese/English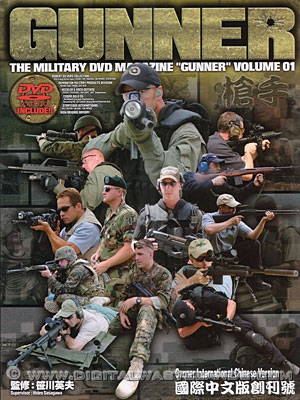 Box - Front Cover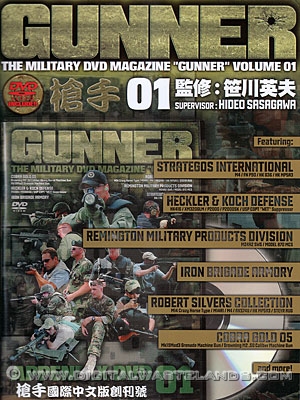 Magazine - Front Cover
Box set includes:
Box with integrated Magazine
8pcs Business card sized photo cars/calendars
4:3 NTSC DVD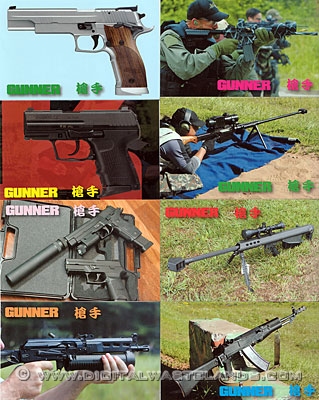 Business card sized calendars
Contents include:
Strategos International (M4, P90, G36, MP5A3)
Heckler & Koch Defense (HK416, XM320GLM, P2000's, USP's, water Suppressor)
Remington Military Products Division (M24A2SWS, M870MCS, XM110)
Iron Brigade Armory (Armory, Sniper Training)
Robert Silvers Collection (M14 Crazy Horse, M14A1, M4, AKS74U, MP5A3, AUG)
Cobra Gold 05 (Mk19Mod3, M2)
And More... (JGSDF Tsuchiura Weapons School, and other bits)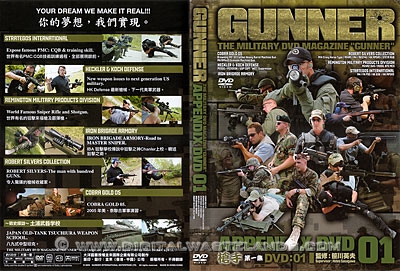 DVD Jacket Insert
This is a much better DVD then the 12/2004 Arms Magazine, Real Steel trip to the Philippines. Much more technical info and direct from manufacturers. But no semi hot girls shooting guns.
The visit to HK-USA was AWESOME! Showing a real 416 in action and under the imfamous HK/XM8 dirt/water test. A nice "off the hip" shot of a XM320, through a tire 100yards downrange. The Remington 870 MCS, Modular Combat System, has QD stocks and barrels And a Remington SR-25 which they jsut teased you with.. This one guys collection, Robert Silvers, is insane and so large its held in a "bunker".
This DVD is some great eye candy regardless of language. Most interviews are done in English though.
Volume 2 - Kalishnokov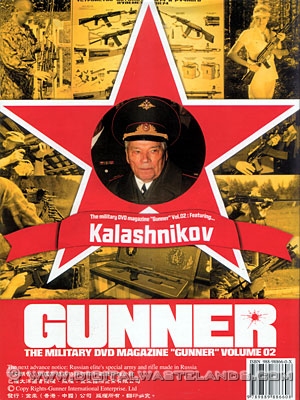 Volume 2 Kalashnikov!!!
This version is a Japanese version, so all Magazine text is in Japanese and no subtitles. But as the previous DVD, most interviews are in English... even in Russia.
Contents include:
ROST 2005 Russian Military Show.
Spetsnaz Training
Dinner with Kalishikov
Tour Sig Sauer Factory
Tour Barret Factory
Low Light technique
Systema (Nothing to do with Systema Japan)
HK Defense
SOF Week 2005
The Included MOOK in in Japanese text only, and has ads from WA and Marui.
This Volume spends a majority of time in Russia, but luckily the people they deal with in Russia speak english.
The trip to watch the Sptenaz training was interesting, especailly the fact they do CQB training with live rounds as other team members holding targets on sticks that pop out behind doors... I'd hate to be the FNG in Spetznaz training. The Kalishnikov dinner was interesting, although it seems Kalishnikov has given the same speech many times now. And the trips/tours to the Sig and Barrett factories were awesome.
Now available in the US at AEX.
Gunner DVD Vol1
http://www.airsoftextreme.com/store/index.php?main_page=product_info&products_id=2438
Gunner DVD Vol2
http://www.airsoftextreme.com/store/index.php?main_page=product_info&products_id=2439