Discussion Starter
·
#1
·
Hell we spend so much time on them yet we hardly give them a thought. As well as building guns... I build custom high end computers for people (How I buy alot of my guns) Im not a nerd! I just happen to see that you can make a hell of alot of money building very powerfull computers for people, and it is easy as hell to build computers once you know what your doing...
As for my computer...
AMD Athalon 64 3700+ Prossesser
80 gig Seagate
200 gigs of storage Hard drives
2 gigs of ram (Yea... overkill I know)
Ati Radeon 9800 pro 256 MB
With all this high end stuff packed into the other computer case I had I could not put enough fans in it to stop it from overheating. I picked up this case and it happened to have a window in it... So I ended up adding a bunch of stuff on that as well Lights and crap, very cheap to do for something that everyone that has me build computers for them looks at so I figured I would make it stand out and now most people that have me build them for them want it with all this stuff added on to it as well.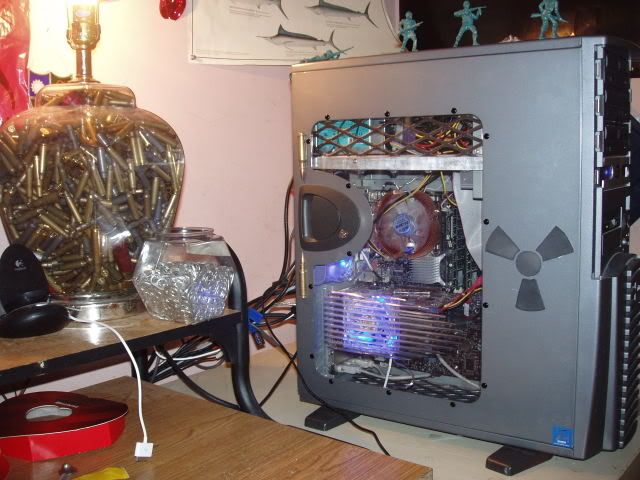 Yea those are .308s cut in half on the side of the case there.. that was a bitch to do.... and the other metal stuff was from me messing with some scrap on the band saw. And that is a lamp with all the shell caseings in it as well, about two shooting range visits worth.
Anyone else do anything different with there computers, or need one built?