As reported today by ABCNews.com:
Armed America: Portraits of Gun Owners in their Homes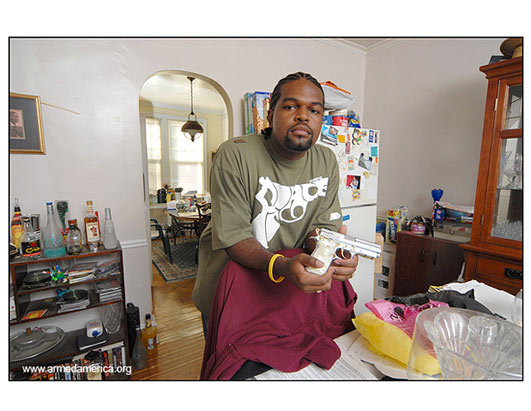 Kyle Cassidy loves to shoot -- cameras, that is. But in 2004, this freelance writer-photographer embarked on a nationwide road trip in search of another breed of shooters, America's gun owners. Such was the genesis of "Armed America: Portraits of American Gun Owners in Their Homes," which hits bookstores Aug. 1, 2007. According to Cassidy, the book is less about firearms and the controversial place they occupy in today's society, and more about the American experience. "This is not a book about guns," said Cassidy. "It's a book about people."
In this image, Stan holds his Taurus PT38s .38 Super. "I think everybody should have a gun," he explains. "It levels the playing field."
See the full report today on the "World News Webcast" at 3 p.m EDT
(Kyle Cassidy)
The mini-story with more pics of gun owners in America can be found at;
http://abcnews.go.com/WN/popup?id=3408842
A link to the book site with many more interesting pics can be found at;
http://www.armedamerica.org
- Janq would if asked never have agreed to be in this book